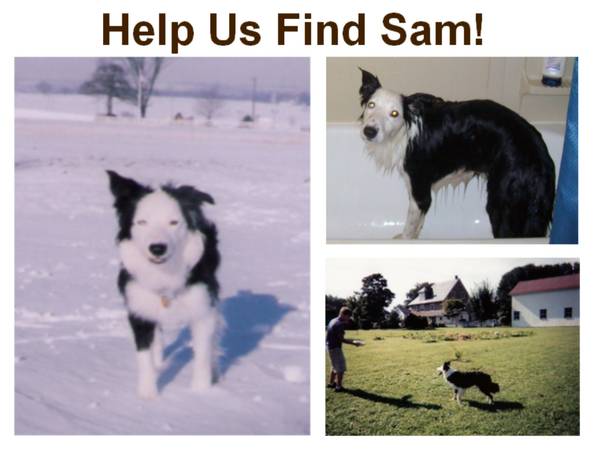 STILL MISSING - My Border Collie, ran off around Jan 20th, 2014. He lives near the intersection of Rts 10 and 896 (Russellville). Sam has very unique features; he has an all white face with black ears and 2 different color eyes. He slipped out of his collar when he ran off but someone who tried to capture him, said he had a rope on his neck as if someone previously tried and failed to capture him. Sam is very friendly, but will probably be shy at first! Sam loves to play Frisbee and may engage in play, which may be a way of gaining his favor. Even a paper plate will work. If you see him or know someone who recently acquired a dog with this description please call or respond to this post. Thanks for your help!
◾Date Lost: 01/20/2014
◾Location Lost: near Oxford, PA
◾Gender: Male
◾Age: 14
◾Pet Size: Medium (50 lbs.)
◾Breed: Border Collie
◾Color Pattern: Black & white with an all white face
◾Pet's Eye Color: Eyes are two different colors
◾Pet's Tail Type: Long tail with long hair
◾Collar Description: No collar
◾Contact Phone:
☎ 610-960-5606
Sightings of Sam reported by eyewitnesses.
March 14..... Willow Street, PA (not a strong confirmation)
March 3 ..... Sighting on Fourth St in Oxford, PA.
Feb 7.......... Sighting not far from Walgreens (Baltimore Pike, Oxford, PA) crossing Barnsley Chrome Road.
Feb 2-4....... Sighting near "Big Elk Creek" where the creek is between Little Elk Creek Rd and Mt Hope Rd.
Jan 23..........Pusey Mill Road and Newark Road (896), Oxford, PA.
Similar topics
---
Permissions in this forum:
You
cannot
reply to topics in this forum