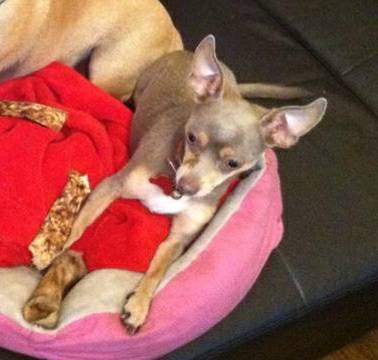 **REWARD!!!** Lost on August 15th in Al Tahoe area of South Lake Tahoe, She could be anywhere by now
Please help us find our little little chihuahua mix, Anastasia. She has markings like a mini pincher. She is spayed, small about 7 pounds long legs, short haired blue/grey with tan markings with a slight white underbelly and light eyes. We were here on vacation, and she dug out under a fence.
We are so worried about her, and heartbroken. She is our baby and has been spoiled and well taken care of since birth. At this point she could be anywhere in the area, or taken away by vacationers.
She is wearing a red collar with tags with our phone numbers on it, she is microchipped. She tends to dart from strangers. We have passed out over 100 flyers, and spoke to a lot of people, please help us bring her home. Please, if you find her do the right thing and turn her into the El Dorado Animal Shelter in South Lake Tahoe or call, text or email us.
contact name:
Michael
contact by phone:
☎ 5108289596
reply by email:
dcb3c-4663949675@comm.craigslist.org
Please call us with any info, it really would be appreciated as we are searching day and night for her. Call Or Text Anytime Michael 510-828-959six or email Stephanie thru craigslist.
Similar topics
---
Permissions in this forum:
You
cannot
reply to topics in this forum